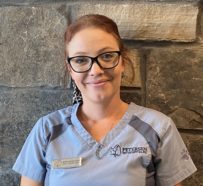 Client Care Specialist
Brittany is a client care specialist at Petersen Pet Hospital. She grew up in San Antonio, Texas and moved to Iowa a few years ago with her family. Growing up, her family always had pets, and Brittany doesn't feel that a house is a home unless there is a furry family member in it. This upbringing expanded her love of animals and made her more invested in their care. Whether it be adopting her own family members or helping the local lost pets find their way home.
When she's not working, she fills her time by doing activities with her 2 children and their fuzzy brother, Gizmo. She likes to spend time with family whenever possible. She is a lover of the outdoors and taking long walks in nature. Her family volunteered during Derecho feeding those in need and helping their neighborhood.