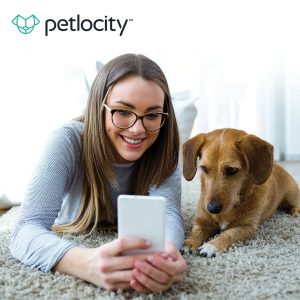 We believe that great pet parents should be rewarded for taking care of their pets.  So we've partnered with Petlocity, a program that lets us reward great pet parents like you for staying up-to-date on your pet's exams, medications and vaccinations.
That means you'll save on the big (and small) stuff and get access to special offers and promotions at our practice.  Plus, it helps you keep track of your pet's health information and even share it with groomers, boarding facilities, and more!
Rewards
There are 3 levels of rewards and once you reach the level you will receive a coupon in your Petlocity app to be redeemed at our office at a future appointment.
Silver level:
$10.00 off an exam for your cat or dog
Gold Level:
$5.00 off 1 dose of flea or heartworm preventative for your cat or dog and a Petersen Pet Hospital t-shirt. (Women's & Men's sizes available S-3XL- sizes available on first earn, first serve basis.).
Platinum Level:
$20.00 off an exam for your cat and dog and a Petersen Pet Hospital 20 oz Tumbler (Tumbler is double wall with copper vacuum insulation and good for hot or cold).
Ready to start earning rewards?
It's simple.  Just follow these steps.
1 DOWNLOAD
the Petlocity app from the Apple App Store or Google Play
2 SEARCH
for us using our zip code – 52402
3 CREATE
am account using the same email address we have on file
4 CHECK
your inbox to verify your account
5 LOG IN
to your Petlocity account to view your pet's information
6 ENJOY!
It's that easy.  If you have any questions, contact us at 319-743-0554!
Be sure to check your Petlocity app before your next visit to see if your rewards are ready to be redeemed!
FAQ's
The program starts on Monday, May 21st, 2018.  Clients will start earning points as of this date.
All points are accumulated through December 31st and will reset to zero on January 1st.